*El Mareekh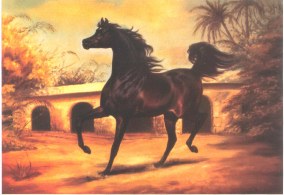 Painting by artist Julie Blake

*El Mareekh was born on February 23, 1975, at the Egyptian Agricultural Organization (EAO) stud farm in Egypt . His sire is Aseel, a Sameh son who is out of a *Ghazalahh daughter. Not only is Sameh one of the EAO's premier stallions, he has sired some of the world's most successful Egyptian-bred horses, including *Sultan, *Fawkia, *Ibn Hafiza, and *Serenity Sonbolah. Aseel's dam, Inas, is by the incomparable *Ghazalahh. *Ghazalahh had a short breeding career, with *Bint Ghazalahh being her only other produce. *El Mareekh's dam, Rawayeh, is a daughter of

Alaa El Din.

*El Mareekh was imported to this country in 1979 by his owners Les and Lois St. Clair. The St. Clairs had taken an extended vacation in 1977, making Egypt one of their stops. On a visit to the EAO, Les asked to see Sameh sons. He knew Sameh offspring were well-known for their outstanding conformation and movement. Les discovered the majority of youngsters he liked were sired by the Sameh son, Aseel. When he saw Aseel, he realized where the smoothness and correct conformation of the young stock originated. Asking if there were any older sons of Aseel, Les knew instantly at the first sight of Aseel's young son, *El Mareekh, that we just had to have him. "My first sight of *El Mareekh is one I'll remember all my life. He came down the path towards us, the sun dancing on his silky black-bay coat, his neck arched, nostrils flaring. One look was all it took!" Lois adds,

"*El Mareekh was special from the moment we laid eyes on him. He exuded that rare quality seldom seen in any species of animal. His "personality" was almost "human", but most of all he had a "certain expression" that was so unique. We see it in all his gradchildren.

El Mareekh was earmarked for the E.A.O.'s breeding program and was not for sale at that time. The St. Clairs were informed that, if indeed he were ever offered there were prominent American Farms (Gleannloch, Lancer, Bentwood and Ranchara) already on the list. The St. Clairs added their name to the list and wrote to the head of the E.A.O., explaining their need and desire for

*El Mareekh. The St. Clairs returned to Egypt in 1978. On a walk to *El Mareekh's paddock they were informed they were chosen to have *El Mareekh. Overcome with disbelief and joy, *El Mareekh came home to American in July of 1979, and was promptly named Grand Champion Stallion at his second show, just four months after coming out of quarantine.

*El Mareekh truly became a star of the show ring in his all-too-short show career, winning numerous halter chanpionships, most classic awards, and culminating with a 1981 U.S. Top Ten Stallion title. His trainer, Gene Reichardt, summed up the feelings of many of

*El Mareekh's admirers, "I was impressed with his type and refinement. I beleive he is one of the most exciting stallions ever imported from the E.A.O. When one saw *El Markeeh trot, one was thrilled at his tremendous balance and freedom of movement, his well laid-back shoulder, prominent wither and long croup and hip. But maybe *El Mareekh's most delightful characteristic was his gentle disposition." *El Mareekh combined the virtues of both Sameh and Alaa El Din, his grandsires. He had the smoothness of body, action and presence of the Sameh horses, along with the elegance, refinement, beauty and the long shapely high-set neck

that characterize the

Alaa El Din blood.

*El Mareekh had but 40 foals in his short lifetime, but several have earned grand champion and reserve honors.

*El Mareekh was well on his way to national prominence when disaster struck. *El Mareekh was mistakenly fed hay infested with blister beetles and he died on

17 Feb 82. He left behind some good sons and daughters, including Ibn El Mareekh, whom the St. Clairs continued to use as their replacement sire.